LIFE CALENDAR
€

9.95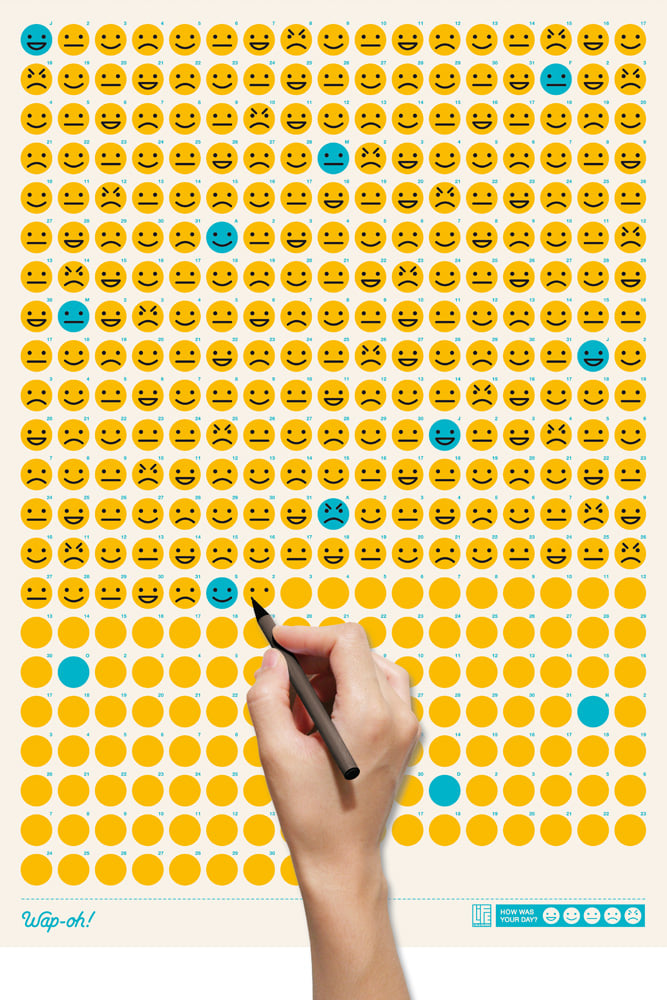 (42×29.7cm / 16.5×11.7in)
How was your day? An easy, but important question. If you wonder how many good days you have per year, how many are great, bad, horrible or just normal… This is your calendar!
Life Calendar: How was your day? is a funny and unique calendar in which you can reflect graphically your every day mood. It can be used as a mini personal diary of life experiences and help us to be conscious with our own wellbeing.
Each day can be represented by a clear emoticon face to draw how you felt that day. Five moods are suggested: very good, good, normal, bad, very bad. You can also draw many other faces or even include little notes that you might want to remember.
The calendar is valid for any year. There are 365 emoticon faces in the calendar, one per day, numbered and ordered by month. You can start the first day of the year or in any special date, like for example an anniversary. Once finished, the calendar becomes a very personal keepsake that can decorate a special corner of your home.
A Wap-oh! style item for yourself and/or perfect as a gift!
Paper: 400gr.
Designed by Raquel Catalan.
¿Cómo te ha ido el día? Una pregunta fácil pero importante. Si te preguntas cuántos días buenos tienes al año, cuántos de geniales, de malos, de horribles o simplemente de normales… ¡este es tu calendario!
Life Calendars: How was your day? es un calendario diferente y divertido en el que se plasma gráficamente el estado de ánimo de cada día. Sirve como pequeño diario personal de vivencias y ayuda a ser más conscientes de nuestro bienestar.
Cada día está representado con un emoticono en blanco para dibujar cómo ha ido la jornada. Se sugieren 5 estados: muy bien, bien, normal, mal o muy mal. También se pueden representar muchas otras caras, así como añadir pequeñas anotaciones que se quieran recordar.
Es válido para cualquier año. En el calendario hay 365 emoticonos, uno por día, numerados y ordenados por meses. Se puede empezar el primer día del año o en cualquier fecha especial, como por ejemplo un aniversario. Una vez terminado, el calendario se convierte en un recuerdo muy personal que puede decorar un rincón del hogar.
Un artículo al estilo Wap-oh! para uno mismo y/o perfecto para regalar!
Papel: 400gr.
Diseñado por Raquel Catalan.
Share